What is Hypertension?
Hypertension is a leading cause for cardiovascular diseases such as heart attack and stroke. Hypertension is diagnosed as systolic BP of over 140, and diastolic pressure of 90+ consistently. It is determined by the amount of force blood is pumped through the arteries, ultimately thinning and limiting space in the artery walls.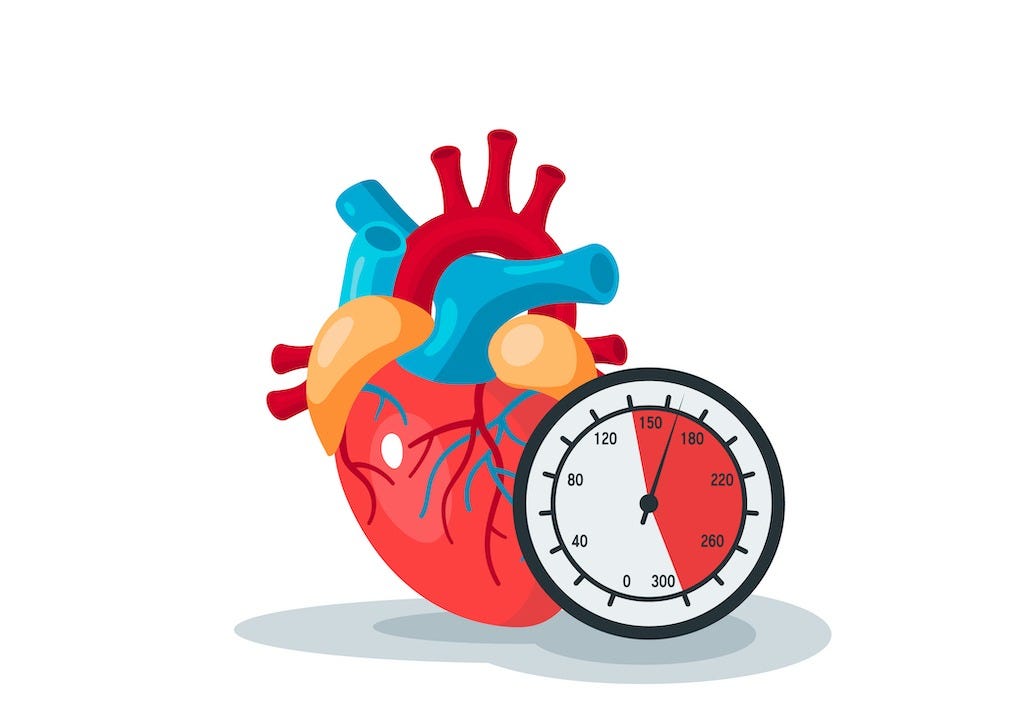 How to Detect?
Measuring blood pressure through a monitor is the best way to detect hypertension for immediate results. Symptoms are rarely detected, but do include fatigue, headaches, and abnormal heart pattern. Gradual symptoms develop overtime, and for this reason, hypertension is labeled as "The Silent Killer" (Mayo Clinic, 2021).
Causes of Hypertension

Unhealthy Lifestyle Patterns:


Diet
A diet consumed with high intakes of sodium and processed foods can cause hypertension. Cigarettes, and alcohol can contribute.

Physical Activity
Inactivity and a sedentary lifestyle eliminates oxygen flow and deliverance to the heart. Elevated BP is normal after exercise, but should return to resting state after 2-5 minutes.

Genetics
A study performed researched about 30-60% of elevated blood pressure can result from a heterogenous phenotype. Ethnicity/race can determine the presence of HBP. Cause and effect with hereditary diseases like diabetes, can influence a relationship (Shih, O'Connor, 2008).
Physical Exercise & Hypertension
Regular physical activity improves and conditions the heart's strength to pump further blood with less effort.

The minimum recommend amount of exercises is 75 vigorous minutes per week. Physical activity can improve heart function with changes in inflammation, endothelial function, and insulin sensitivity (Hegde, Solomon, 2015).

There is a relationship with weight and HBP. Exercise helps to burn the excess body fat in the individual's body and causes a reduction in B.M.I, reducing force needed to pump blood through arteries.
Content from Youtube can't be displayed due to your current cookie settings. To show this content, please click "Consent & Show" to confirm that necessary data will be transferred to Youtube to enable this service. Further information can be found in our Privacy Policy. Changed your mind? You can revoke your consent at any time via your cookie settings.
Consent & Show
Low Impact Activity
The hearts most beneficial exercises are the ones incorporating both aerobic and weight resistances training.
Content from Youtube can't be displayed due to your current cookie settings. To show this content, please click "Consent & Show" to confirm that necessary data will be transferred to Youtube to enable this service. Further information can be found in our Privacy Policy. Changed your mind? You can revoke your consent at any time via your cookie settings.
Consent & Show
Yoga for Lowering Blood Pressure
Yoga is great activity for individuals already diagnosed, or at high risk of high blood pressure that cannot perform high intensity exercises. Gradually building on yoga exercises as progress improves.
References
Hegde, S. M., & Solomon, S. D. (2015). Influence of Physical Activity on Hypertension and Cardiac Structure and Function. Current hypertension reports, 17(10), 77. Retrieved from https://doi.org/10.1007/s11906-015-0588-3

High blood pressure (hypertension) - Symptoms and causes. (2021, July 1). Mayo Clinic. Retrieved from https://www.mayoclinic.org/diseases-conditions/high-blood-pressure/symptoms-causes/syc-20373410

Shih, P. A., & O'Connor, D. T. (2008). Hereditary determinants of human hypertension: strategies in the setting of genetic complexity. Hypertension (Dallas, Tex. : 1979), 51(6), 1456–1464. Retrieved from https://doi.org/10.1161/HYPERTENSIONAHA.107.090480